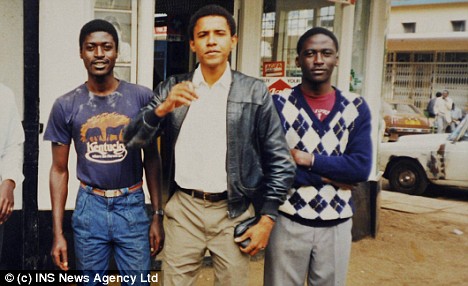 "Barack Obama with his brothers Samson and Ben in 1987 in Nairobi. I have a perfect memory and I state that I saw the man in the center of this picture in Moscow in 1987, where I've been trained at KGB Intelligence Institute."
In light of Obama's tepid reaction to Russia, I repost this article from 2011.
I'm rootin for Putin. The Ukrainian government was not elected. It has no legitimacy; the Prime Minister is a Jewish central banker. But Russia also has a Rothschild central bank. You need two sides to have a war. Even families quarrel. During WWII, Nazis and Allied bankers sat shoulder to shoulder at the Bank for International Settlements.
Putin's Russia is also Illuminati Controlled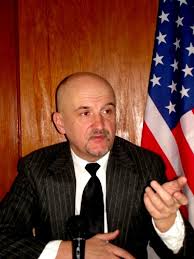 [Editor's Note: This excerpt is from a 55-page document sent to me in 2011 by Kryzhansky, 56, left, who claims to be a former KGB Intelligence Officer and sniper. I find it confusing but worth posting for a discussion of Obama's background. The picture above appeared in the Daily Mail in Oct. 2009. I have no way of knowing whether Kryzhansky is credible or not. The document is provocative but inconclusive. He has an YouTube presence and a blog. Keep in mind, there are credible reports that Henry Kissinger was also a Soviet agent. So was Victor Rothschild (1910-1990). Obama also has CIA ties. The KGB and CIA may be the ultimate executors of the NWO. ]
Washington Times – Obama Caught Conferring with his KGB Handler?
Daily Mail – Politicians Slam Obama's Weak Stand



by Mikhail Kryzhanovsky (prof7prof@yahoo.com)
(henrymakow.com)

August 4, 1961- Barack Obama was born in Honolulu, Hawaii.
Let's reconstruct Obama's biography as I see it with 30 years of espionage experience.
Illegal spy cover story works best if it's a mix of actual and fake facts. "Obama" (let's call him John Smith) was a child of a student from Kenya who studied in Moscow and dated a Russian girl. Such kids in Russia were often unwanted by both partners and were raised and educated at a special school.
Like Obama, John Smith was born in 1961 and, like him, graduated from high school in 1979. KGB paid attention to a very smart young man. Smith was an Intelligence Institute student in 1979-1981 in Moscow, not far from "Cosmos" Hotel. There are couple of buildings in the area and I got intelligence education myself in one of them back in 1987, (15 Yaroslavskaya Street, Moscow Russia).

Then a decision was made to train him individually as illegal intelligence officer .The "dacha" (Russian for small villa) not far from Moscow, provides an ideally isolated territory for training. 2-3 instructors live there to immerse the candidate completely into his American identity and supervise him all the time…

After special training candidate often goes through a special process:
a) illegal probation period abroad. A trip abroad through intermediate countries with numerous changes of passports and cover stories, jobs, personal connections. Then he gets to the target country, stays there for another 1-2 years and goes back to his country for additional training and correction of cover story — actually, it's his first combat assignment. The most important part of this assignment is to check the reliability of the cover story and documents; the cover story has to be reinforced with new and old true facts, like short-term studies at universities or professional training courses).
b) intermediate legislation. On his way back, the officer could stay in an intermediate country for another 1-2 years, make contacts with business, scientists, government employees, celebrities.
c) basic legislation. Officer comes to the target country, obtains genuine documents, gets a job which allows him to travel and talk to many people, recruit informants thus creating an illegal station).

At the same time, in 1979-1981, [the real] Barack Obama studied at Occidental College in Los Angeles where he became a socialist ready to transform the nation by redistributing wealth. KGB station in Washington, DC which was constantly looking for future secret sources at American top universities and colleges, like Columbia, Yale or Harvard, got information about young socialist. They sent his picture and info to Moscow where some resemblance was discovered between a college student from Los Angeles and a future illegal spy John Smith.
Barack Obama is KGB/SVR illegal spy
1981 – Obama traveled to Indonesia to visit his mother and sister Maya, and visited the families of college friends in India and Pakistan for 3 weeks. Then something happened in India, a good friend to Soviet Union and a perfect place to recruit foreigners. He was recruited and he disappeared. John Smith aka Barack Obama came back to the United States – change of agents, one of regular illegal espionage methods.
Obama's father , Barack Obama Sr., aged 46 died in a car accident in Nairobi. His mother, Ann Dunham, lived in Indonesia and might be just avoided or ignored by her "son" (Don Johnson, Dunham co-worker, said "Obama was distancing himself from her"). Russians approached her under a "false flag" ( National Security Agency or CIA) and explained that her son had to stay abroad for a secret mission for some time. They told her that she had to be ready to accept another person as her own son. For operation like that, espionage agencies often recruit close relatives and allow them to meet their son (daughter) from time to time outside USA. Money talks, there's nothing unusual, though for Dunham the pressure and depression was too big – she died in 1995 of cancer at 52.
Time changes people, so "Obama" had to stay away from his friends and do not show up in public too much.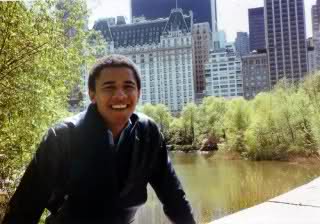 1981 – He transferred to Columbia University in New York City, where he majored in political science and where nobody could remember him at all, and graduated with a B.A. in 1983.

"Obama" declined repeated requests to talk about his New York years, release his Columbia transcript or identify a single fellow student, co-worker, roommate or friend from those years. Wall Street Journal editorial in September 2008, titled "Obama's Lost Years" noted that Fox News contacted 400 Obama's classmates at Columbia and found no one who even remembered him. "Mostly, my years at Columbia were an intense period of study," Obama told Columbia College Today in a 2005 alumnus interview. "I didn't socialize that much. I was like a monk".
Perfect cover up ! Columbia has refused to release any records regarding Obama's attendance, including his application to attend, his grades, and his financial aid records, if any exist. Only one person could order Columbia to shut up – CIA Director Leon Panetta.
1983-1985

He worked at the [CIA Front] Business International Corporation and at the New York Public Interest Research Group. He worked in Chicago as community organizer in 1985-1988.
1987 – Barack Obama with his brothers Samson and Ben in 1987 in Nairobi. I have a perfect memory and I state that I saw the man in the centre of this picture in Moscow in 1987, where I've been trained at KGB Intelligence Institute.
1988 – He traveled to Europe to meet his KGB handlers and get new instructions. He had a choice – a safe variant (to make a political career in one of African countries), and a risky one of staying in America – KGB wanted him to be Martin Luther King #2 . But it appeared he could get much more which was Oval Office. It was decided he could stay in USA longer and it was a success : Illinois Senator (1997-2004) and U.S. Senator (2005-2008).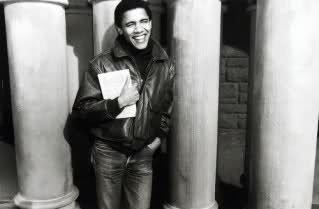 1988-1991 – In 1988, Obama entered Harvard Law School. During his summers he worked as a summer associate at the law firms of Sidley Austin in 1989 and Hopkins & Sutter in 1990. After graduating from Harvard in 1991, he returned to Chicago.
1995 – Ann Dunham, Obama's mother, aged 52, died of cancer in Honolulu, Hawaii.
1997 – Obama was elected the Illinois State Senator
1997– Obama was elected the Illinois State Senator
2004 – Obama was elected the US Senator
August 5-7, 2005 – Senators Lugar and Obama in Russia — "Obama" visited Russia (together with Senator R. Lugar) and met secretly his SVR (former KGB intelligence) handlers to discuss his prospectives for the U.S. presidency. It appeared that U.S. Senator Barack "Obama" was getting out of control and Russians decided to teach him a lesson and delayed his flight over technicalities.

February 10, 2007 – "Obama" announced his candidacy for President of the United States.

August 28,2008 – Nancy Pelosi conspiracy. Barack Obama and Joe Biden were nominated as Democratic candidates for the US President and Vice President. House Speaker Nancy Pelosi knew that Obama was not eligible under the US Constitution – that's why she wrote the first variant of nomination certification and then changed it . ..

November 4, 2008 – Obama won the race and became the first Russian illegal spy to be elected the U.S. President. The Congressional Research Service, a public policy arm of Congress, officially admits no one in the government ever vetted Obama's constitutional eligibility.
October 2, 2010 – He managed to fire Rahm Emanuel (I'll tell you why) and after that Russians humiliated him one more time – in April 28, 2011, he was forced to nominate Panetta to replace Robert Gates as Secretary of Defense. Panetta would end all operations and withdraw all U.S. troops from Iraq – that's another Russian intelligence order. Obama, actually, lost half of his power by giving two key Cabinet positions to Clintons team – that's how Russians punished their illegal spy for his independence.

Now he's a good Russian boy :

1.He's destroying America – its called "socialist intervention into the US economy". A person who wants to spend $1 trillion on health care reform which is not a priority at all in the middle of horrible economic crisis, is either an idiot or an enemy of America with a very well calculated plan to terminate the country. Obama did it – in March 2010 he signed Health Care Reform legislation into law.
2. He's into immigration reform which is a socialist intervention into American society – he'll turn 12 million poor illegal Latinos into US citizens-revolutionaries. In 2012 they'll get green cards, by 2016 they'll get citizenship and bring here all their family members (grandparents, parents, brothers, sisters, brides and grooms) – around 50-60 million unemployed poorly educated people. And that will be the death of America, the end of American Constitution and the birth of a totalitarian "Obama – forever " Communist regime.
3.Rising unemployment and inflation, budget deficit at every state and city is another Obama's trick, planned by Russian intelligence – he's pushing big states like Texas, New York and California to a "boiling point" after which they might take serious steps towards independence – the beginning of America's death. USSR collapsed the same way – now Russians through Obama want revenge.
4.While Bill Clinton saved one Russian "mole" John Deutch, Obama saved 10 (ten) Russian illegal spies, arrested by FBI in June, 2010, sending them back to Russia in 2010 without any investigation – severe blow to American national security and priceless gift.
https://www.henrymakow.com/kgb_operation_barack_obama.html
HURT: Obama's 'flexibility' to lie after election
Turns out he's not Kenyan after all. He's KGB. All this time, people were worried that President Obama was born in Africa and that his radical agenda had been crafted by the Rev. Jeremiah Wright and Saul Alinsky on the streets of Chicago's South Side.
---
Now we know his real radical hidden agenda is in service of the Kremlin.
Mr. Obama reached the darkest low of his presidency this week in South Korea when he was caught on an unseen mic plotting with the leader of one of our oldest adversaries to thwart the will of American voters and advance the interests of enemies who want to see the world's last remaining beacon of freedom finally destroyed.
"On these issues — but particularly missile defense — this can be solved," he tells Russian President Dmitry Medvedev, like in a scene from a Cold War spy movie.
But, Mr. Obama explains to his handler, he needs more time, and he needs to get into a position where he is no longer answerable to American voters.
"This is my last election," he says. "After my election, I have more flexibility."
Speaking in robotic Russian spy-speak, Mr. Medvedev promises to convey the message to incoming President Vladimir Putin: "I understand. I transmit this information to Vladimir."
Not since the tapes of Richard Nixon has a U.S. president been caught uttering such sinister words in an unguarded moment. And, one could easily argue, Mr. Obama's dishonest scheming puts Nixon to shame because it is American voters — not his political enemies — he is selling down the river.
It was particularly chilling to hear Obama's words of betrayal uttered in such a familiar voice that has served to raise the hopes and inspire the dreams of so many of us. It is now official: We fell for a complete and total lie.
His cold, calculating message reveals a deep dishonesty many of us still did not dream Mr. Obama was capable of. It is a duplicity in allegiance unthinkable for an elected American president. Literally, he overrides the interests of American voters who will go to the polls with those of Moscow and Tehran, with whom he will deal after his re-election.
Understandably, our longest-standing and most steadfast friends in Poland and Israel shuddered with every deceitful word.
The question now is, Mr. President, what other secret deals have you made with our foreign enemies? What other tricks do you have up your sleeve that you plan to jump on us after you have been re-elected and we no longer have something you want?
Of course, don't expect the press to ask any such questions. They largely laughed off the matter. "No shock or awe there," Bloomberg News actually wrote in an editorial.
The stridently liberal and increasingly irrelevant Washington Post barely covered the story, except as just another technical goof-up with a microphone. The paper actually compared the incident to then-President George W. Bush inadvertently being caught calling a New York Times reporter a nasty name.
It is this incestuous and deeply un-American collusion between the press and Mr. Obama that gave the president the astonishing bravado to come out the next day and joke about the incident by asking: "Are the mics on?"
How do you say "hilarious" in Russian?
Is it any wonder so many people still do not believe Mr. Obama or the press when they say his birth certificate is real and he was born in the U.S.?
• Charles Hurt can be reached at charleshurt@live.com.
https://m.washingtontimes.com/news/2012/mar/27/hurt-obamas-flexibility-to-lie-after-election/#pagebreak
Obama – Product of Illuminati Breeding Program?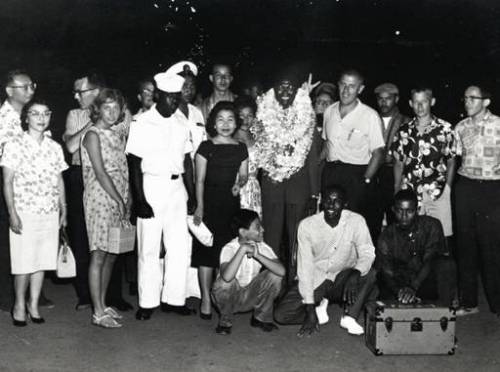 Obama's father and mother were supposed to have met in a Russian language course at the University of Hawaii in 1960. But the picture above shows Barrack Obama Sr. being welcomed by his future father-in-law, Stanley Dunham, at Honolulu Airport in 1959. They are seen standing next to each other as someone flashes a V-sign behind and between them.
Presidential Breeding:
The Making Of A Black President

By Clifford Shack
(Excerpt by henrymakow.com)

In 1992, at a Moscow dinner party, Tom Fife heard the name "Barack" for the first time. A Communist zealot told him that this child had been planned by the Illuminati Communist cabal to become the first Black President of the United States:
"Yes, it is true. This is not some idle talk. He is already born, and he is educated and being groomed to be president right now. You will be impressed to know that he has gone to the best schools of presidents. He is what you call 'Ivy League.' You don't believe me, but he is real and I even know his name. His name is Barack. His mother is white and American and his father is black from Africa. That's right, a chocolate baby! And he's going to be your president."
"He is already born" makes it sound like his birth was planned.
Barack Obama, Jr. is the product of an American mother and a Kenyan father. Just how did those two lovebirds come together? The official story is they met innocently in a Russian language class. But the picture above shows Obama's grandfather greeting his father at the airport in 1959. It is also believed that Barack Obama's mother, Stanley Ann Dunham and her father, Stanley Armour Dunham, both worked for the CIA.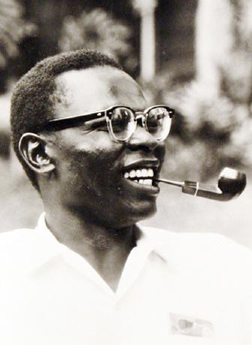 Why did the Illuminati choose Barack Obama Sr. (left) to father America's future Black president? Who was this man?
According to Wikipedia:
"In 1959, Obama Sr. received a scholarship in economics through a program organized by [CIA-supported] nationalist leader Tom Mboya. The program offered Western educational opportunities to outstanding Kenyan students. Initial financial supporters of the program included [Illuminati pawns] Harry Belafonte, Sidney Poitier, Jackie Robinson, and Elizabeth Mooney Kirk, a literacy advocate who provided most of the financial support for Obama Sr.'s early years in the United States, according to the Tom Mboya archives at Stanford University… When Obama Sr. left for America, he left behind his baby son, Roy, and his young wife, Kezia, who was pregnant with their daughter, Auma."
Who was Elizabeth Mooney Kirk? Was she CIA?
Wikipedia continues:
"In September 1959, Obama Sr. enrolled at the University of Hawaii at Manoa in Honolulu as the university's first African foreign student. … In September 1960, Obama Sr. met Stanley Ann Dunham in a basic Russian language course at the University of Hawaii. Dunham dropped out of the University of Hawaii after the fall 1960 semester after becoming pregnant, while Obama Sr. continued his education. Obama Sr. married Dunham in Wailuku on the Hawaiian island of Maui on 2 February 1961. He eventually told Dunham about his previous marriage in Kenya, but said he was divorced–which she found out years later was a lie."
Stanley Ann Dunham and Barack Obama, Sr. were chosen by the Illuminati to parent a future black president. Dunham's father was a distant cousin of six previous presidents. She, being a white woman would also lighten the baby's skin making the child more appealing to American voters while at the same time dislocating their sense of racial identity. Barack Obama Jr. was born August 4, 1961. But the question remains, Why Barack Obama of Kenya?
GOOD GENES
A possible explanation is that Barack Obama Sr. (1936-1962) was the grandson of Theodore Roosevelt, US President from 1901-09. After his presidency ended in 1909, Roosevelt ventured on a year-long safari to British East Africa, on behalf of the Smithsonian Institute and the National Geographic.
At the turn of the last century, the British East Africa Protectorate was considered a "hot spot" for the European elite. Is it reasonable to assume that many a European gentlemen went back home to Europe or the U.S., leaving behind a little "black" secret? The Global Elite would make good use of some of these children. Those that showed promise may have been incorporated into more than one emerging African nation.
Perhaps one of those "secret" children would be an appropriate candidate for a non-African nation? The Illuminati delight in devising ironic and elaborate long-term schemes. The Frankenstein-like breeding of a Black president is just one of them.
In an attempt to engineer America's first Black president, the Illuminati may have arranged a "marriage" for the Kenyan grandson of Theodore Roosevelt.


Habiba Akumu Obama, left, also known as Akumu Nyanjoga (c.1918-2006) was Barack Obama's paternal grandmother. Obama wrote that she was miserable in her marriage and abandoned her husband and children and subsequently married again and moved to present-day Tanzania.
Luos tribe people are given names related to the circumstances of their birth and Akumu means "mysterious birth".
She took the name Habiba upon her conversion to Islam. This photograph shows her holding her son, Barack Sr, on her lap. It is on the cover of President Obama's memoir!
Was Akumu "mysterious birth" the daughter of Teddy Roosevelt?
The problem is one of age. Was she really born in 1918? TR visited Kenya in 1909. Or was she really born in 1910? The picture at left was probably taken in 1938. Does this woman look 20 years old or 28?
Whatever the truth, Barack Obama Sr. may have been chosen to sire the future President. The question is why him? Was he TR's grandson, or is there another reason?
Obama – A Jewish President Fights Israel's Wars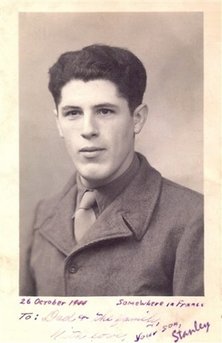 Baruch Obama's grandfather, Stanley "Dunham"- Wikipedia waxes about his grandfather's "Irish"
antecedents but my Jew-dar isn't buying it.)
This week Americans will tell Obama
they are fed up with waging wars of aggression
on behalf of the Illuminati & Organized Jewry.
This 2007 article is a timely reminder of the real nature of
the threat facing humanity.
https://www.henrymakow.com/is_obama_literally_americas_fi.html
by Henry Makow, Ph.D.
"Is not war already a revolutionary function? War? The Commune (1870). Since that time every war was a giant step towards Communism."
– See more at: https://henrymakow.com/what_is_communism.html#sthash.xU09yMwi.dpuf"Is not war already a revolutionary function? War? The Commune (1870). Since that time, every war was a giant step towards Communism." Christian Rakowsky (aka Chaim Rakover, henchman of Leon Trotsky, member of the Illuminati. Every war is caused by the Illuminati as a step in their "revolution" i.e. replacing God with Satan.)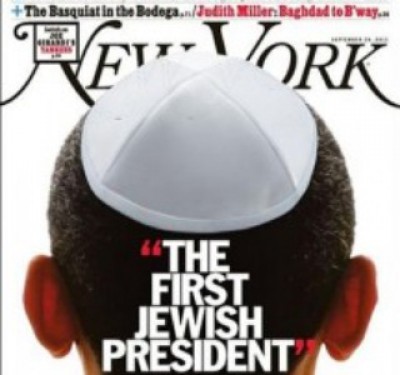 If you Google "America's First Jewish President," you'll find links to many Jewish publications "kvelling" (yiddish for boasting) about how Barack Obama was sponsored by Jews and is "one of us."
This may be literally true. I suspect his mother's father Stanley "Dunham" was Jewish. Obama's mother "Stanley Anne Dunham" certainly looked and acted like a Communist Jew. (My first mother-in-law was one.)
As we have seen, the modus operandi of the Satanic Sabbatean Frankist cult (Illuminati) is to intermarry and impersonate all other religions, ideologies and nationalities. Reinhard Heydrich's grandfather was Jewish. Hitler's grandfather was Jewish. Churchill's mother was half-Jewish. Sonya Sottomayer parades as a "Latina" but her mother was Jewish. It wasn't just Jewish actors in Hollywood who changed their name and their persona.
The object is power. By controlling all sides, the Illuminati create divisions, chaos and war. Ultimately, their aim is to destroy Western civilization and bring about the New (Communist, some say Jewish) World Order. Yet paradoxically, they plot to exterminate Jews who don't subscribe to their agenda.
To call Barack Obama "America's First Jewish President" is disingenuous. Many other presidents are rumored to have had Jewish blood: Theodore Roosevelt, FDR, Truman, Eisenhower, Johnson and the Bushes to name a few. So it's not surprising to read in Wikipedia that, Stanley Dunham, a lowly furniture salesman from Kansas was related to six US Presidents.
"Stanley Armour Dunham's distant cousins include six US presidents: James Madison, Harry Truman, Lyndon Johnson, Jimmy Carter, George H. W. Bush and George W. Bush. Through a common ancestor, Mareen Duvall, …Stanley Dunham is related to former Vice-President Dick Cheney (an eighth cousin once removed). Through another common ancestor, Hans Gutknecht, …Stanley Dunham is President Harry S. Truman's fourth cousin, twice removed."
In contrast to her husband, non-Jew Madelyn Payne Dunham is not related to any President. Wikipedia waxes on about Stanley's "Irish" antecedents but my Jew-dar isn't buying it.
Other clues. Stanley's mother Ruth ( a common Jewish name) Lucille Armour committed suicide when Stanley was eight-years-old. His father abandoned him and his brother to their grandparents. What would cause a mother of two boys to commit suicide? The Illuminati are generational satanists. They engage in a lot of depraved activities.
As a furniture salesman, Stanley was described as "gregarious, friendly, impetuous, challenging and loud…could charm the legs off a couch."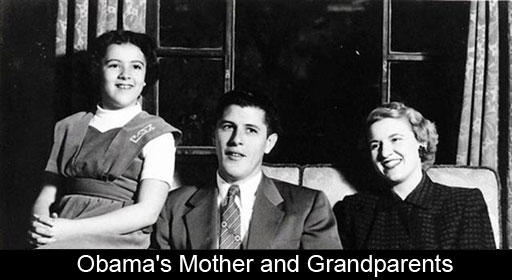 Stanley Dunham and his wife Madelyn (not Jewish) raised Barack from age 10 in Honolulu in the 1970's. Although Madelyn didn't have a university degree, she became Vice-President of a bank. Madelyn and Stanley are described as "Methodists." But Barack was raised as a "Unitarian" which like Freemasonry and Judaism, doesn't require members to believe in God. It is yet another stalking horse for the NWO.
According to Wayne Madsen, Madelyn laundered money for the CIA while Stanley was involved in a program to groom African students like Barack Sr. to
be NWO shills.
Obama's mother, "Stanley Anne", became a Communist and fought the "Establishment," not realizing the Communists ARE the Establishment. She allowed a Communist degenerate Frank Davis to take pornographic pictures of her, which are on the Internet. (Google Images) Davis boasted of bedding white women and some believe Davis is Obama's real father. Certainly Barack Obama Sr. didn't waste any time abandoning mother and son.
"Stanley Anne" was an "idealistic" part-Jewish woman who got her Ph.D. and worked for Timothy Geitner's father in Indonesia at the elite Ford Foundation. Madsen believes she also did double time for the CIA, as did her second husband Lolo Soetoro.
ROTHSCHILD'S CHOICE
My interest in Obama's antecedents was piqued by Texe Marr's new DVD about Barack Obama called "Rothschild's Choice." Packing the punch of an old fashioned sermon, this DVD demonstrates convincingly that Barack Obama's role is to roll America into a Jew World Order. Anyone wishing to understand "anti-Semitism" need go no further than this video which I recommend to Jews and non-Jews alike. It's a disgrace that America has produced only a handful of courageous and effective defenders like Texe Marrs.
Although Jews make up no more than 2.5 % of the US population, Marrs shows how Jews (and Israel) dominate business and government, not to mention entertainment to the detriment of Americans. The 2007 credit crisis is portrayed as outright theft from the US taxpayer by Jewish bankers. Although I considered myself well versed on the subject, the video contained a lot of new information. For example, I wasn't aware that the whole American Black leadership are Prince Hall Masons like Barack Obama, and therefore instruments of the Illuminati Jewish bankers.
The list includes NY Governor David Paterson, Jesse Jackson, Eldridge Cleaver, Louis Farrakhan, Al Sharpton, Andrew Young, Julian Bond, Kweisi Mfume and entertainers like Count Basie and Nat King Cole.
This is just an indication of how the Illuminati Bankers have used Freemasonry to infiltrate and control virtually everything. Yet you don't hear Texe Marrs fulminating against Freemasons or Blacks. He makes passing criticism of Christian pastors who are traitors. But the viewer comes away hating all Jews regardless of whether they play an active, passive or no role whatsoever.
The Illuminati Jews are not typical of Jews in general who mostly are dupes. They are Satanists who breed with generational Satanists from other backgrounds and impersonate every race religion or nationality. Obama is a "Christian," a "Muslim" and even a Jew. He is an Indonesian, Kenyan and an American. He is Black and White. He is a perfect leader for a new world bereft of race, nation and religion. In fact, he represents an alien Satanic force, the Illuminati, intent on gradually enslaving mankind.

The Illuminati have usurped the leadership of Jews in the same way as they have usurped the leadership of Blacks, Christians, Americans and Europeans in general. We are all equally culpable. Put another way, American imperialism is largely an Illuminati Jewish phenomenon. The ordinary Jew is no more responsible for its ravages than the ordinary American.
Jews who reject the Jew World Order must distinguish themselves from the Illuminati Jews and their Masonic lackeys. Texe Marrs should also make this distinction. He is playing into the hands of the Illuminati bankers who want to use Jews as their human shields. The Illuminati deliberately foster anti-Semitism for this reason. "Anti Semitism is indispensable to us for the management of our lesser brethren," said the author of Protocols of the Elders of Zion. (9-2)
At the same time, Jews have been willfully indifferent to the legitimate reasons for anti-Semitism. Those I know are too busy with their personal lives to investigate. Unless they join the battle, people will assume they are culpable. When the Canadian Jewish Congress tried to silence me, I had no response from ordinary Jews. Perhaps they think they can keep their heads down and benefit from the evil dispensation that is descending upon us.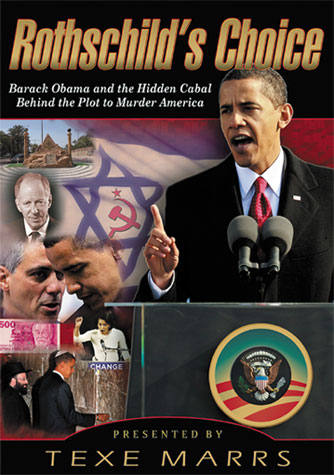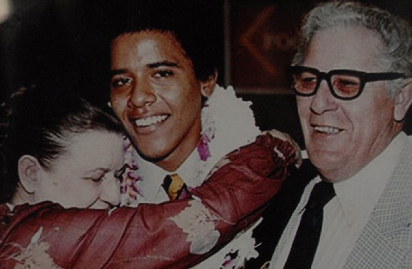 'CHANGING THE WORLD'
It is a tragedy that mankind's collective and idealistic impulses have been co-opted by the Illuminati bankers and used to increase their power and wealth. "Equality" and "social justice" are ruses to cover their real agenda: robbing the human race of its birthright and reducing humanity to the status worker-consumers with the rights and knowledge of children. Now, they are taking our racial, religious, national and family identity. Gradually they are taking our freedom and property. Perhaps then, too late, we'll get the message. The Protocols of the Elders of Zion are genuine. (See "What is Communism?" https://henrymakow.com/what_is_communism.html)
This agenda is the real meaning of "revolution." The Illuminati view perpetual war and destruction as the most effective means of destroying the old and shaping the new.
"Reform," "Progress" "Changing the World" all mirror their Luciferian rebellion against God and the salutary natural and spiritual order. They are constructing an alternate reality which turns truth and justice on their head. Increasingly, the real world resembles the surreal sexual, trivial, violent world portrayed on TV and in Hollywood movies. They are writing the script, and the epitaph for civilization.
Total Page Visits: 136 - Today Page Visits: 1