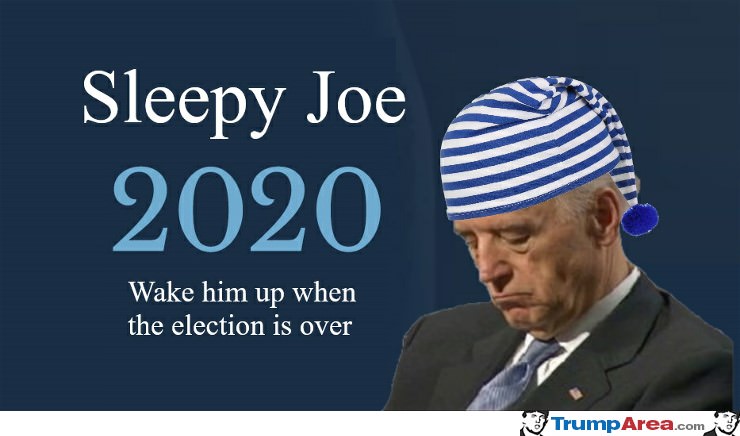 President Donald Trump has called former Vice President Joe Biden "Sleepy Joe" but not he could have imagined this.
A spokesperson for the former vice president spoke to CNN anchor Anderson Cooper prior to the Democrat debate on Thursday and suggested that the president is correct.
Kate Bedingfield, who is Biden's communications director and deputy campaign manager, was asked why Biden would not go to the interview room after the debate.
"I understand just finally, Vice President Joe Biden won't go to the spin room tonight after the debate to talk to reporters," Cooper asked.
"I still can't believe it's actually called the spin room, it seems like the most honest thing in politics, and I can surely understand never wanting to set foot in one," Cooper said. "But [Biden] is a candidate, why is he not going to go?"
"Well, he's going to have spent two hours answering questions on-stage, and he talks to the press everywhere he goes," Bedingfield said.
"I think there's no question the American people know where Joe Biden stands on issues," she said to Cooper as an explanation.
But it sounded a lot like, after a two hour debate, Sleepy Joe would be too exhausted to stay and answer more questions from the media.
The irony of him actually proving President Trump's nickname for him was too much for Donald trump Jr. to resist as he pounced on the news.
"OMG, I mean 11pm is really late and all… Good thing nothing happens in the middle of the night he may want to be up for," he said.
But he did get a chance to take a swing back at Sen. Kamala Harris, who accused him of a sticky record on race issues, as he left the stage.
Biden was confronted by an MSNBC reporter, Garrett Haake, who asked him if Sen. Harris "mischaracterized" his position.
"Yes, she did," Biden said. "I don't think she intended anything. She mischaracterized it because I supported busing to eliminate de jure segregation."
"Sure, we should have a role by breaking down the barriers that exist in institutional racism. That's what I did when I was a local official and county official.
"What we're talking about is whether or not the Department of Education, as opposed to the courts, could order de jure segregation, meaning segregation imposed by law.
"There's de facto and de jure segregation. I supported of course an ability to strike down any order — as a matter of fact, I voted against an amendment that came up in the Senate, I was the deciding vote for a Senator here in Florida that was called the Gurney amendment.
"I was the deciding vote. They wanted to take away the power of the court to stop busing. I voted against it," he said.
(Visited 4 times, 1 visits today)
184total visits,6visits today