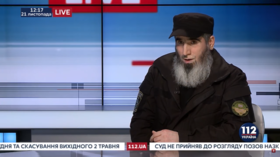 Islamic State-trained militants are fighting alongside a state army in a European country, the Times reports – but that detail is buried in an article talking about how Putin is a common enemy of Ukrainians and Chechens.
Framed as an inside look at what's driving Chechens to join Kiev's "anti-terrorist operation" against the breakaway republics in the east of Ukraine, the Times article has a few juicy quotes from one Mansur, a member of a voluntary battalion made up of Chechens.
Putin is our common enemy… He brings only evil.
Author and veteran anti-Putin writer Marc Bennetts echoes the official message of Kiev and its Western allies, calling the eastern Ukrainian rebels "Kremlin-backed" and claiming Moscow is "preparing a full-scale invasion."
He also mentions, once, midway through the text, that some of the Chechen fighters in Ukraine admit having trained with Islamic State (IS, formerly ISIS/ISIL) in Iraq and Syria. Kiev, he writes, has no official links to them, but has been criticized for turning a blind eye to their actions.
Formalities out of the way, the article gets on with more important things such as how the "Kremlin-installed" leader Ramzan Kadyrov is not representative of the Chechen people.
"We want the world to know that it wasn't Chechens who attacked Ukraine but the Kremlin," it quotes Mansur as saying. "Kadyrov and the Chechen people are very different things."
(Visited 19 times, 1 visits today)
Please follow and like us:
2166total visits,4visits today